Update 1 – 09/29/14
Hey Folks!

When we say we'll email you sparingly, we keep our promise! But seriously, these past few months have been pretty crazy for us. Since SCAA, we've been going non-stop with Seraphim development meetings and demos across the world. From Seattle, to North Carolina, to Australia and Italy, the Seraphim has been racking up some decent frequent flyer miles!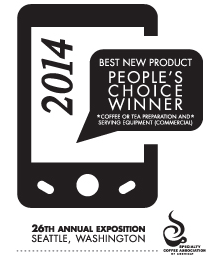 Well, as you may know, we were happy to accept SCAA's People's Choice Award for Best New Product . We previously won this award for the Seraphim's predecessor, The Curtis Gold Cup Brewer. Building off that concept we threw way more brawn into the brewer and also made it look a bit more appealing…

The two questions that I get asked the most are: What will the unit cost, and when will it be available? At this moment, all current pricing questions can be answered at www.curtis.coffee

Next, availability… Currently we are sending out some pre-release Seraphim for some in-depth Beta Testing. We have two Beta 1.0 units in the field and will be shipping out six Beta 2.0 units within the next few weeks. We currently have plans for a Beta 3.0 test before a final unit rollout. That schedule will hopefully have the Seraphim rolling off the line some time around the New Year.

Another question I have been asked is why does it take so long when there are already operational units for tradeshows. The simple answer is component manufacturing and testing. At Curtis, we like making sure that if we put a unit into the field, we are 100% confident that it will operate the way we designed it. And while there are always unforeseen problems, we try to simulate any and all field scenarios in Beta testing and our QC labs to help eliminate those problems.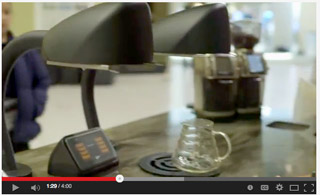 The other lengthy process in the Seraphim development is the component manufacturing, specifically the Seraph (brewhead) casting. When we were in the early design stages of the Seraphim we concluded that we didn't want to spare any expense on the quality of components. Therefore, we decided that the material the Seraphs would be made out of would be high-grade aluminum. In fact, the casting company that will be manufacturing the Seraphim components makes many of the aluminum engine components found in Pro/Am racing. All that to say, they know how to make high quality aluminum parts…

While we aren't going to wait 5 months to give you guys another update, we'll keep our promise and email you sparingly. However, for those that want to keep up more regularly on Seraphim happenings, please continue to check in on the Seraphim website for updates, as well as following us on Instagram and on Twitter.
Update 2 – 11/05/14
Hello All!

Just another brief update on how things are going out here in sunny Los Angeles at Curtis HQ…

Things are still chugging along! Earlier this week we spent a whole day in our R&D lab verifying the accuracy of the Seraphim brewheads. We've been working on improving the speed and accuracy of the Seraphim since it's debut earlier in the year at the Specialty Coffee Expo. After hours of testing our new and improved recirculating chamber within the brewhead, we have been able to reduce the initial recirculation time by 75% and have improved the volume accuracy to greater than 99%. Practically speaking, this means that if you are brewing a 20 oz Chemex, (~570ml) the finished brew water volume will be accurate within 5ml. EVERY. DANG. TIME. Just sayin', that's pretty crazy…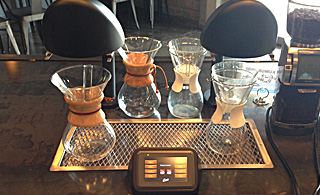 Anyways, as things are still progressing towards the eventual launch in January, the 4 Seraphim Barista Capsules that we have for demos have been all over. In fact, this week was the first week since SCAA that we've had more than 2 of them at HQ at one time. However, that didn't last long since they were all out the door as soon as we had them cleaned up for the next trip. That brings us to where you can see them in action and have some of the amazing coffee off of 'em…

This week (Nov. 7-9) I, Brant, will have one at the Big Central Barista Competitionin Minneapolis. We have the distinct pleasure of Co-Hosting the 2nd of 3 regional competitions with our good buddies at Café Imports. During the same time, Tyler Bruno (our new Coffee Culture Developer) will have a Seraphim unit at the MANE Coffee Conference. We are stoked to be sponsoring the MANE conference for the 3rd straight year. Lastly, both Tyler and I will be at the last of 3 regional barista competitions, the Big Eastern. We will be co-hosting the competition with our friends at Counter Culture Coffee in downtown Durham on November 21-23.

But you may be asking yourself, "What about the Beta units that are in real café settings?" Well, at the moment we've got two Seraphim installed in two fantastic cafes. The first install goes to the new Cuvée location in Austin, Texas. When I asked Lorenzo Perkins, Director of Education, to describe how the Seraphim is doing in two words, he says, "(Fill in the blank) awesome!" The Second install is in Washington, DC at a new Madcap account, Slipstream. Trevor Corlet, Founder of Madcap, gave us, "Quote." To visit either location, check out the website for Cuvée and Slipstream.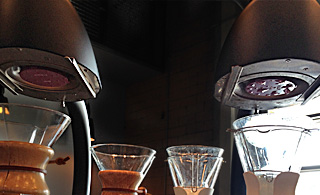 This brings us to two very exciting announcements…

First, we are seeking two more locations for round two of our Beta testing! To submit your name to be one of the potential beta sites for the next round follow the links below. However, before you send in your info, the one caveat we have is that for the sake of receiving as much feedback as possible before launch, the unit must be installed and operational by Thanksgiving… That's right, you'll have 3 weeks to get 'em in and soaring. If you know you can meet that timeframe, please click here to submit your info!

The second announcement is that the week of November 10th we will be sending out an email with information for our Seraphim wait list! Think of this as reserving your spot in line for one of the first 50 units! This will not be a "pre-order" though as we will not be taking any payments for the Seraphim yet. All that will be worked out upon shipment of the units. Think of this as lining up in front of your favorite big box store that you love to hate the night of Thanksgiving instead of spending it with your family… (Except this will only take moments…)